Highlights:
Rakesh Tikait joined the farmers' protest in Haryana's Tohana
The matter escalated due to the controversial statement of JJP MLA Devendra Singh Babli.
Demand for release of arrested farmers, MLA apologizes for statement
Fatehabad/Hisar
Bharatiya Kisan Union (BKU) leader on the controversial statement of Jannayak Janata Party (JJP) MLA Devendra Singh Babli from Tohana, Haryana and the arrest of farmers. Rakesh Tikait The performance continues. Along with Tikait, Gurnam Singh Chadhuni and Yogendra Yadav Also included in the performance. Meanwhile, the MLA has apologized for his statement.
In Tohana of Fatehabad district, people led by farmer leaders including Rakesh Tikait gheraoed the police station on Saturday night itself. Amidst the ongoing dispute between MLA Babli and the farmers, the leaders of the United Kisan Morcha reached Tohana on Saturday in displeasure with the police raids for the arrest of the farmers.
Tikait reached here and announced, 'The government is very fond of arresting, so we have come to arrest. Hundreds, thousands of farmers will arrest with us. The administration should arrange for warrants and buses. Police and administration are also on alert due to the gathering of farmers. Rapid Action Force and 20 companies of police have been deployed.
The clash between Tohana MLA Devendra Singh Babli and the farmers continues. The MLA had used indecent language against the farmers, after which there is anger among the farmers. The police are continuously conducting raids to arrest the farmers. Some activists have also been arrested. After this the farmer leaders turned to Tohana. Seeing the matter catching up, the MLA released the video and apologized for the statement.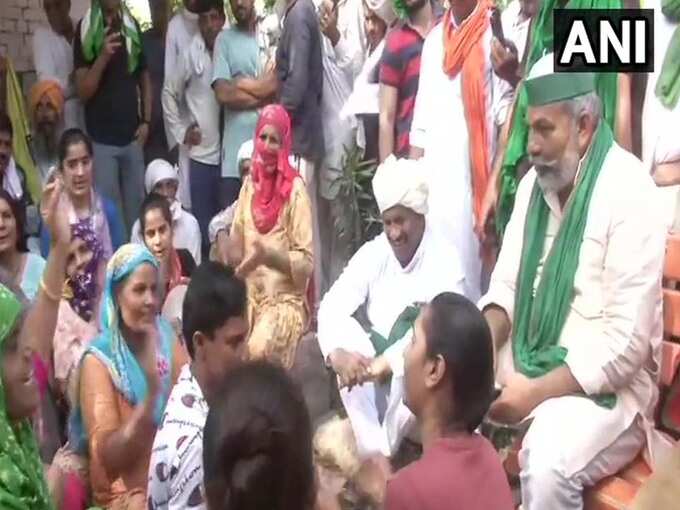 Rakesh Tikait sitting on dharna