Highlights:
Congress workers opened front against Jitin Prasada after joining BJP
Congress spokesperson Supriya Shrinet has accused Jitin Prasad of doing politics of convenience.
Jitin's close said, then Congress will one day become a party of only one family.
Jitin became the General Secretary of IYC at the age of 26, won the Lok Sabha elections at the age of 30
Lakhimpur-Kheri/Shahjahanpur
Jitin Prasada, once considered the closest leader of Rahul Gandhi, has now become a BJP leader. Since Wednesday morning, the market of discussion was hot that a big leader of Congress from UP can join BJP. By the afternoon, the clouds of apprehension dissipated and the picture of Jitin Prasada taking membership of BJP came to the fore. At the same time, Congress workers, who were carrying a flag behind them, opened a front against them and they are being called abusive words on Twitter.

Congress told Jitin a lot after leaving the party
Congress spokesperson Supriya Shrinet has accused Jitin Prasad of doing politics of convenience. Supriya said that when Sonia Gandhi took over the reins of Congress, Jitin Prasad's father Jitendra Prasad had protested and contested the elections in protest. Even after this he was given the post. Later Jitin Prasada was also given a chance in the party. He was the General Secretary of the Youth Congress, MP and then a minister in the Congress government. "Unfortunately, the Congress which gave him so much has left the party. Is this not politics of convenience?'

Who benefits and who loses because of Jitin joining BJP?
In such a situation, it would be interesting to know that what is the personality of Jitin Prasad, who is causing so much uproar over his joining BJP? Why is it being seen as the Brahmin card of BJP when he joins? In the city from which Jitin himself comes, what is his support base and how much will he benefit the party if he joins the BJP?
When Jitin's father 'revolted' against Sonia Gandhi
Jitin Prasad is originally from Shahjahanpur. Jitin's father Jitendra Prasad was a senior Congress leader and was also a four-time MP from Shahjahanpur Lok Sabha seat. Jitendra Prasad held many important positions in the party. His last election was the 1999 Lok Sabha election. The very next year, he launched a rebellion against the party leadership. Jitendra Prasad opposed Sonia Gandhi becoming the party president continuously. Jitendra Prasad was very senior to Sonia Gandhi in the party as a worker. He contested for the post of Congress President against Sonia Gandhi, but lost. He died a few months later in January 2001.
MLA Aditi Singh said- 'Congress is becoming a family party, Jitin's future is bright in BJP'
Jitin inherited politics, became MP at the age of 30
Jitin inherited politics from his father. Jitin was 26 years old at the time of his father's death. The party made him General Secretary of Youth Congress. From here he started learning politics closely and in 2004, at the age of just 30, he was made a Lok Sabha candidate by the party from Shahjahanpur, the traditional seat of his father. People's sentiments got attached to Jitin, who was contesting from the ancestral seat and he won with 34.83 per cent votes. After this, in the year 2008, he was made Minister of State for Steel. Jitin was extremely popular and accessible in his Lok Sabha constituency at that time. Anyone could visit 'Prasad Bhavan' and meet him at any time.

Elections won from new Lok Sabha seat in 2009, ministers made at the center
A new Lok Sabha seat, Dhaurahra, came into existence from the districts of Shahjahanpur, Lakhimpur-Kheri and Sitapur in the delimitation ahead of the 2009 Lok Sabha elections. Jitin contested the 2009 Lok Sabha elections from this seat and won. The biggest reason behind this victory is considered to be his promise to bring a big railway line in Lakhimpur-Kheeri. The people of Lakhimpur had been demanding this for a long time and in 2009, relying on his promise, Jitin was sent to the Lok Sabha after winning the election. The period from 2009 to 2014 was the golden period of Jitin's political career. He served as Minister of State in major ministries like Petroleum and Natural Gas, Road Transport and Human Resource Development.

Jitin Prasad News: Chhattisgarh Congress's tweet, asked Jitin Prasad to leave Congress, thank you
First setback in 2014, then could not recover
Jitin got his first setback in the 2014 Lok Sabha elections when Dhaurahara Lok Sabha seat was lost from his hands in the 'Modi wave'. From here BJP candidate Rekha Verma won by record votes and Jitin came fourth with just 16 per cent votes. Since then, Jitin continued to struggle from within the party to the ground and in 2017 the party made him a candidate from the Tilhar assembly seat. However, here too he was defeated by BJP's Roshan Lal Verma. After this, it was believed that Jitin's political career was coming to an end, but Congress again reposed faith in him and in 2019 again gave ticket from Dhaurahara Lok Sabha seat. This time he got worse here and with only 15 percent votes he came third.
Close said, Jitin's defeat was also hidden in his personal 'victory'
After this defeat, Jitin started preparing his new political ground. He started consolidating Brahmin votes which had been a big factor in his last two victories. Jitin's close aide Manvendra Singh said, "Jitin did not get the respect that a leader of his stature should have got in the party. Jitin got close to 2.5 lakh votes in the 2014 and 2019 Lok Sabha elections, even in 2017 the margin of his defeat was not huge. He may have lost 3 elections, but all these votes he got were from his own hard work. Manvendra said that the Congress party is not ready for change, when Jitin raised his voice for the change, only the party leaders opened a front against him. He said that if this attitude of Congress continues, today leaders like Scindia and Jitin have left, tomorrow it will remain as a party of just one family.

Joining BJP said Jitin, now my work will speak
On the other hand, Jitin Prasada thanked Prime Minister Narendra Modi, Shah and Nadda and said that I have taken this decision after much deliberation. He said, 'From today a new chapter of my political life is starting. The rest of the parties have remained individual and region specific. Today any party and leader is most suitable for the interest of the country and if he stands firmly then it is BJP and Prime Minister Narendra Modi. Prasad said that by staying in the Congress, he was not able to protect the interests of the people, so there was no justification to continue there. He said, 'Now the BJP will become that medium. A strong organization and strong leadership is here, which the country needs today. I don't want to speak much at this time, my work will speak.'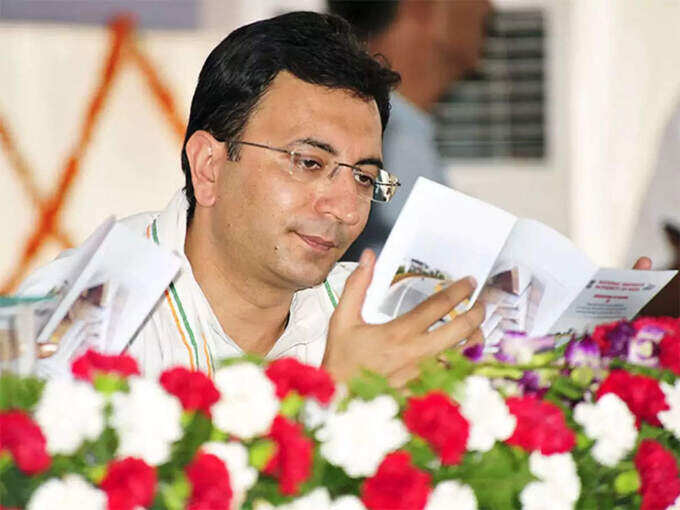 Jitin Prasad (file photo)