Abhishek Jaiswal, Varanasi
The color of Mokshadayini Ganga is changing in Varanasi, Uttar Pradesh. From the banks of the Ghats to the middle stream, the water of the Ganges has turned green these days. The change of color of Ganga has also increased the tension of the district administration. DM Kaushal Raj Sharma has constituted a five-member team headed by a magistrate to know the reality of the change in Gangajal. The team formed by the DM has started investigation from Tuesday regarding the changed color of Gangajal.
The color was changed on 21st May
The Central Pollution Control Board has done sampling of Ganga water from all the places where Ganga water is green from windows of Varanasi to Mirzapur. Regional Officer of the Central Pollution Control Board, Kalika Singh said that on May 21, for the first time, the color of the water of the Ganges was green. After three-four days the situation became normal but after a few days again the color of Gangajal changed. During this, we first examined the drains falling from the industrial area of ​​Varanasi, but in the investigation it came to the fore that this has not happened due to any chemical in the drain.
Report will come by June 10
In such a situation, after collecting samples of Ganga water from those places, it will be re-examined that how and from where green algae are coming in the Ganges? The Central Pollution Control Board will submit its detailed report on this by June 10.

Varanasi: President Ramnath Kovind attended Ganga Aarti, also took blessings of Baba Vishwanath
stagnation caused algae
The DM's investigation team will have to wait for three days to know the reasons for the algae coming into the Ganges. According to experts related to Ganga, the reason for the changed color of Ganga is the stagnation in Ganga water. This is happening because of the construction happening on the banks of the Ganges in Varanasi. The changed color of the Ganges can be extremely dangerous for aquatic organisms.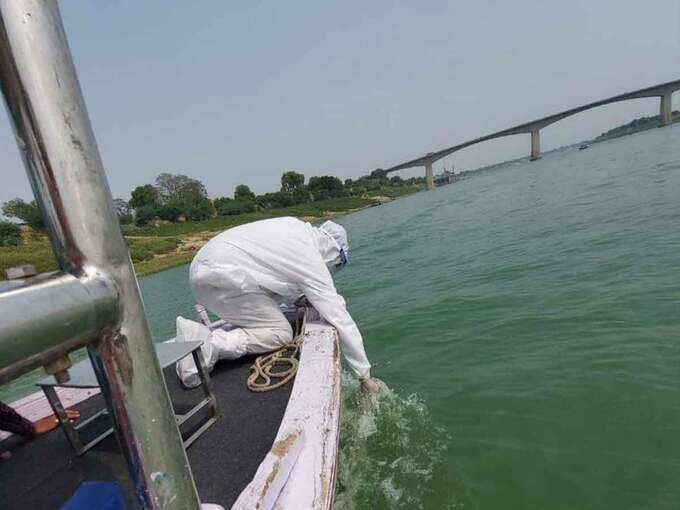 Change of Gangajal color increased tension