India's veteran off-spinner Harbhajan Singh has apologized for calling the Khalistani militants martyrs.
Mumbai, 7 June: India's veteran off-spinner Harbhajan Singh (Harbhajan Singh) Harbhajan Singh has now apologized for calling the Khalistani militants martyrs. "It was a forward message I received on WhatsApp. I made a mistake in posting it in a hurry," Harbhajan Singh explained.
Harbhajan Singh is very active on social media, but this time one of his posts caused a big controversy. On Saturday, he shared a post on Instagram in which he paid tribute to the Khalistani terrorists who were killed at the Golden Temple in Amritsar by writing a photo on them. Harbhajan's post started trending on social media.
In his apology, Harbhajan said, "I want to make it clear that it was a forwarded message on WhatsApp. I posted on social media without verifying this. I do not agree with this post as well as his thoughts and the people in that photo. I am a Sikh who will fight for India, not against the country. '
'I apologize for hurting the feelings of the countrymen. I do not support any organization that acts against the country. I have worked hard for the country for 20 years, I will never support anything against India, 'said Harbhajan.
My heartfelt apology to my people..🙏🙏 pic.twitter.com/S44cszY7lh

– Harbhajan Turbanator (@harbhajan_singh) June 7, 2021
Harbhajan had posted on social media a tribute to the terrorists killed in Operation Blue Star at the Golden Temple Amritsar in Amritsar. Operation Blue Star marks 37 years since its inception. On this occasion, Harbhajan shared a story on Instagram. In it, Harbhajan has uploaded a photo of Jarnail Singh Bhindranwale, a Khalistani terrorist. In this post, Harbhajan paid homage to these terrorists and paid homage to them by giving them the status of 'martyrs'.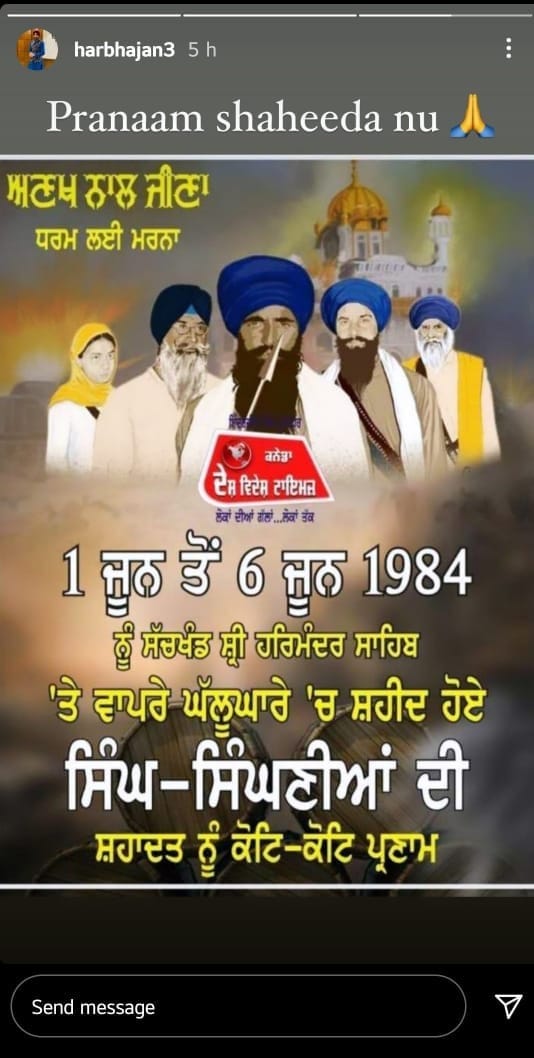 Harbhajan deleted this post after some time. But his screen shot has gone viral. The photo in this post has text in Punjabi. "Living with self-respect and dying for Dharma. Millions of salutations to all those who were martyred in the massacre at Sachkhand Shri Harmandir Singh Sahib between June 1 and 6, 1984."