Team India to tour Sri Lanka has been announced. The selection committee has ignored the batsman who has scored 27 centuries in this team.
Mumbai, June 11 : Team India to tour Sri Lanka has been announced. Shikhar Dhwan is the captain and Bhuvneshwar Kumar is the vice captain for this tour. 6 new players have been given a chance in the team. Team India, led by Virat Kohli, is currently on a tour of England.
Team India will remain in England after the World Test Championship Final against New Zealand. The final of the World Test Championship will be played from June 18 to June 22, after which the Indian players will play a series of five Test matches against England. The series is set to begin on August 4. Due to the corona crisis and quarantine rules, the Indian team will stay in England even after the match against New Zealand.
The ODI and T20 series between India and Sri Lanka will be played in July while the Indian team is in England. A completely different team has been selected for this series. This tour is a great opportunity for the novice players to prove themselves. Former Saurashtra batsman Sheldon Jackson is disappointed not to be selected in this team. He has expressed his displeasure on Twitter. Former Team India player Rohan Gavaskar has advised Jackson not to be disappointed and to be ready for the upcoming opportunity.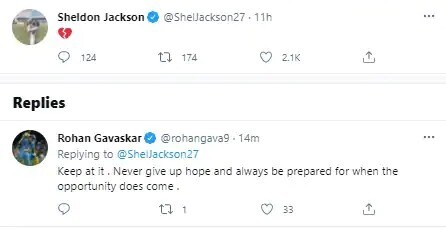 800 runs in two seasons
Jackson has scored more than 800 runs in the last two Ranji seasons. He had hoped to be selected for the tour of Sri Lanka in the absence of key players, but was disappointed that it did not happen.
Veterans like Sachin-Dravid had taken wickets, sex tapes brought notoriety
Jackson has a total of 27 centuries in all forms of domestic cricket to his name. In first-class cricket, he has scored 5,634 runs in 76 matches, including 19 centuries and 27 fifties. He has scored 2096 runs in 60 A class matches with 7 centuries and 11 fifties. Jackson has scored a total of 1240 runs in 59 T20 matches, including 1 century and 6 fifties.