Highlights:
Paras Hospital's license canceled with immediate effect
Paras Hospital of Agra seized, CM Yogi ordered
Hospital accused of killing patients due to lack of oxygen
Agra
The administration has whipped up action on the murderer hospital in Agra. Following the instructions of the District Magistrate, CMO Dr RC Pandey has suspended the license of the hospital with immediate effect. The CMO has started an investigation into the death of 22 patients in the hospital and the lack of oxygen.
Before stopping the oxygen, the doctor in Agra said, 'Don't put your mind, kill the trial.. will know who will die and who will not'.
District Magistrate and Arinjay Jain face to face
District Magistrate Prabhu Narayan Singh says that the hospital had run out of oxygen. Whereas Dr RK Jain of Paras Hospital was saying in the viral video that there is a shortage of oxygen in the hospital, which was the reason Dr Arinjay Jain did a mock drill in the hospital.

Paras Hospital News: Cleanliness of the owner of Paras Hospital – 'All allegations are wrong', DM also said – Agra is a small city, there would have been uproar over 22 deaths
Investigation team will give report in 2 days
CMO Dr RC Pandey told that a 2 member team has been formed for the deaths in Paras Hospital, this team will give them the investigation report in 2 days, ACMO Dr Virendra Bharti and Dr Sanjeev Varman have been appointed to investigate the matter.

Agra Paras Hospital News: CM Yogi's strict stand on the death of 22 patients, Paras Hospital in Agra seized
The secret of 'murder' revealed from the video, paras hospital staff furious now committed hooliganism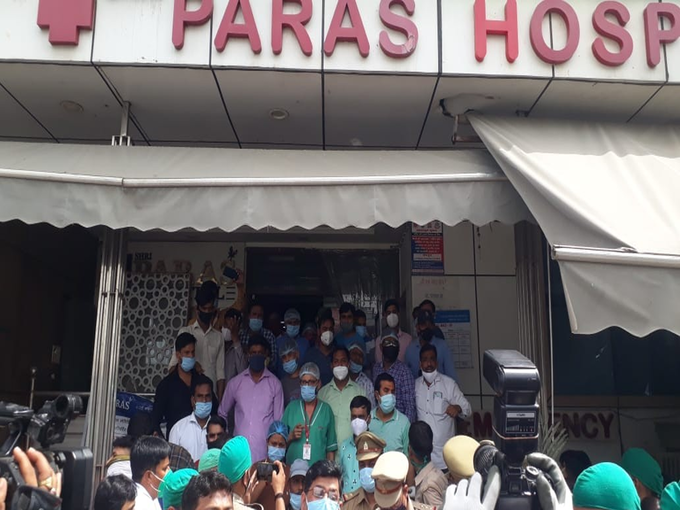 .